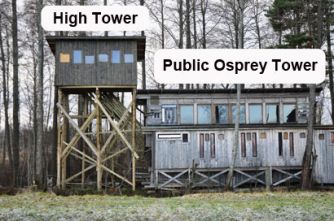 An amateur or professional photographer can book all the photographing spots for her/himself for 1-6 days at a time and is allowed to share them with 1-3 fellow photographers.
In the High Tower there are 4 camera openings equipped with camera stands, sandbags etc. (Similar to those in Bird Hides.) Detailed instructions for High Tower photographers, see here.
The High Tower and the public tower are located about 40 meters from the ospreys' feeding pond. You can book the High Tower also in advance using our online booking system. These spots can also be booked in the Cafeteria during opening hours.